We live in interesting times. And by interesting times, I mean hella surreal ones. Living in the golden age of reality TV is both awesome and frightening. But I've decided to embrace it. Sure, instead of James Dean and Marilyn, we've got Kim Kardashian and Speidi. But these people are becoming the cornerstones of pop culture. So, let's explore. What does it mean to live in a world where we no longer have just plain stars, but reality TV stars?
Bethenny Frankel
Unlike most reality stars, Bethenny's relatively sleaze free. She seems to just work really, really hard. The woman is driven. She started off on
The Apprentice
before worming her way onto
Real Housewives of New York
(even with an initial lack of a husband, nobility, or J.P. Morgan funded alimony). Despite her handicap, she managed to come up the best news for calorie conscious alcoholics since the term drunkarexia was coined--of course, I'm talking about the Skinnygirl Margarita. Bethenny's even gotten herself a spin off show on Bravo.
Bethenny's the kind of girl who's constantly thinking about how to be on top work-wise. I suspect that even when she's having sex she's wearing a Skinnygirl tank top, just in case the Bravo cameras show up for a post coital session. So who's Bethenny? She's the Tracy Flick of the reality world. Constantly thinking about work and about accumulating one more accolade. (Is that why part of me couldn't help hoping that this season Jill Zarin would embody Matthew Broderick in
Election
and knock her down a peg--if only by hurling a metaphorical diet Pepsi at her Skinnygirl car?)
Donald Trump
OK, granted, Donald Trump isn't just a reality star. He's (sort of) a real businessman. Of course, to me he'll always be the asshole
Apprentice
boss or a creepy Miss America judge (or a random guy in the lobby in
Home Alone 2
). So where does Donald fit in?
He's William Zabka. You know, Johnny of the Cobra Kai in
Karate Kid
, or the rich bully in
Back to School
. He's that obnoxious asshole who exists solely to let us channel our inner Karl Marx. Yes, his whole function is to walk on camera and let the audience think, "I may not be rich...but at least I'm not the Donald."
So let's cut Donald some slack. Those remarks he made at Rosie O'Donnell over her weight? Ogling fake D-cups on the Miss America contestants old enough to be his next girlfriend? All contractually obligated, friends. By karma.
Tyra Banks
Tyra is the girl who in her youth was hotness personified, but who's now getting a little older--and a lot more insecure. Her ass may be spreading and maybe gravity's given her a few more of what Bridget Jones gently termed wobbly bits.
But Tyra won't go gentle into that good night of Spanx and soft lighting. It was the pictures that got too high def, dammit, not her hips that got too huge for the frame. She'll attack each and every paparazzi member for daring to suggest that her cellulite makes her any less of a woman. She's still the same sexy woman she once was--right? Right, guys? Remember? When she walked for Yves Saint Laurent and the entire crowd enjoyed multiple orgasms?
For that, Tyra Banks is the Norma Desmond of the reality show world. Except instead of a scary recluse in a eerily lit mansion in Beverly Hills, she'll be a scary recluse in a fluorescent lit talk show relegated to one of the Lifetime/Oxygen wannabe channels, ranting and raving about weaves, cellulite, and constantly showing clips of her old runway shows to suburban moms jonesing for Oprah.
Ozzy and Sharon
Remember when the Osbournes first got a reality show and MTV realized they had a new operating model cheaper even than finding the next Jesse Camp? The Osbournes didn't exactly embody class, no. And yes, they spawned Kelly Osbourne's "singing" career (the nepotism--it burns).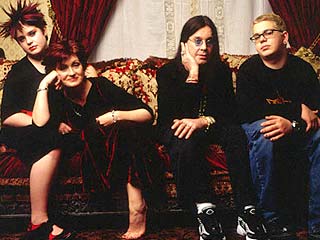 But the Osbournes never put their kids in danger for the sake of sweeps week (I'm looking at you, Balloon Boy Famille and the Sunderlands). Plus,
Papa Don't Preach
was almost acceptable when you think about how Luann De Lesseps raped autotune and left it for dead with
Money Can't Buy You Class
. And you know, Jack Osbourne may have gotten a few walk on cameos but he never starred in any sex tapes. (Thank god, because you know they would have involved hobbits.)
For that, Ozzy and Sharon are the Ozzie and Harriet Nelson of the reality show world. And yes, a world in which a rock star I affectionately dubbed Guano Muncher represents the ultimate cheesy TV dad is an incredibly surreal one.
Heidi Montag
I almost feel sorry for Heidi Montag.
She's tried and failed at so many things. Fashion school. Reality TV feuds. Aspiring to Tori Spelling's level of stardom. What will she ultimately be known as? Through plastic surgery, becoming the 21st century's answer to the Bionic Woman.
For this, I've gotta compare her to Lupe Velez. Lupe was a Mexican actress who (according to Roz on Frasier) wanted to be well known in death. She planned a dramatic suicide, got dolled up in a sexy negligee, and took an OD of pills...and then got nauseous and drowned in the toilet. (OK, snopes says this is a UL, but it'll serve the point all the same.) Why is Heidi the Lupe Velez of the reality show world? Because her best laid plans of getting famous by actually working hard and doing things fell through. But she'll be famous for being a living trainwreck.